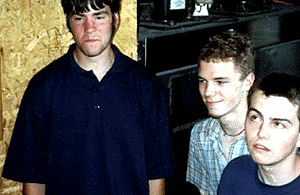 >>>>The Stiffs (above) have a new record out on Ductape Records called Forever In A Day. My advice? If you like great melodies and shameless melodies, pick this one up. Only $10 through Ductape Mailorder!
>>>>The Meligrove Band are hard at work on their debut CD for Ductape Records, "You Can't Fake Rock™" which will be out this fall. Early versions of a few of the songs, as well as an interview with the band, can be heard on the August 3rd edition of Ductape Radio. A huge indie-rock extravaganza should be goin' down in celebration of its release. We'll keep you posted. For now, visit Ductape Records for more info.
>>>>Marilyn's Vitamins will return home from their summer tour to a Ductape Presents show happening at the JCC at Bloor and Spadina in Toronto on August 21st. Other bands on the bill include Closet Monster, Hoppin' Mad, The Trilams, Souped Up Ritalin Boys, and a few surprise guests. Show starts at 2PM, and it'll run ya $6 to get in. Expect some Marilyn's Vitamins stuff out on Ductape Records in the future.